Center parcs magic in Morzine
Read all about the new Center Parcs in Morzine-Avoriaz in the guardian:  (don't forget to pack your swimmers this Winter!).
http://www.guardian.co.uk/travel/2012/aug/10/europe-highest-waterpark-alps-avoriaz
Europe's highest waterpark – making a splash in the Alps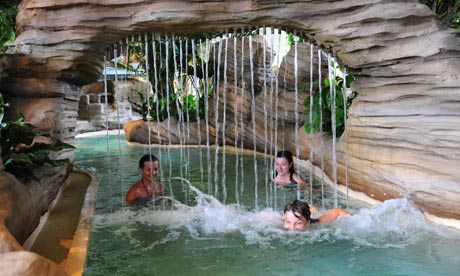 One of the water runs at Aquariaz in the French Alps.
The highest waterpark in Europe's has just opened in France's Avoriaz resort, offering year-round fun for families
As my son and I fall over the lip of the half-pipe and experience a moment of freefall, I let out an involuntary cry. Then I relax as gravity returns, swinging us from one ramp to another until we finally slow to a standstill. Wow!
Quarter-pipes, half-pipes and super-pipes have long been an attraction of the French Alps, but the one that the nine-year-old and I have just been through is made of stainless steel, not snow. It's part of the new Aquariaz mountain waterpark – the highest in Europe – brought to the ultra-family-friendly, pedestrianised resort of Avoriaz by Center Parcs Europe and its parent company, Pierre & Vacances. The latter also owns a number of holiday apartments in Avoriaz – indeed, this was where the self-catering specialist took seed.
Aquariaz isn't as large as the waterparks at Center Parcs in the UK, but it is sparkling and new, and has some brilliant design features, both practical and playful, that explain its €200m price-tag. In addition to the aqua half-pipe or "slidewinder" – which you can ride solo or à deux, in a single or double rubber tube – and a brilliant waterplay area for younger children including an aquatic see-saw, there's a long and fairly demanding climbing wall alongside one of the pools. The climb ends at a rope that swings you over the water against a backdrop of mountains – Aquariaz has spectacular views of the Alps through vast floor-to-ceiling windows. Two indoor Jacuzzis set amid tropical foliage are trumped by a third out on the terrace, where you can relax while looking out at dramatic peaks – whether flooded by sunlight yet streaked with the remains of last winter's snow or, in the ski season, dazzling white.
Aquariaz is open year-round, making it a choice après-ski venue for those who want to warm up and relax tired muscles after a day on the slopes.